Colaboradores y músicos de David Bowie se han reunido para salir de gira y celebrar la música y legado del Duque Blanco.
Bajo el nombre de Celebrating David Bowie, músicos como Adrian Belew, Angelo Moore de Fishbone, el pianista Mike Garson, Gerry Leonard, Carmine Rojas llevarán la gira por Europa, norte america y México. El concierto también promete que a lo largo de la gira tendrán invitados especiales.
Mike Garson estuvo de gira con Bowie y grabo en el álbum The Rise and Fall of Ziggy Stardust, además grabo el piano en el álbum Aladdin Sane. Adrian Belew, conocido y talentoso guitarrista, fungió como director de la gira Sound + Vision, además de grabar las guitaras de 'Sufragatte City' y en otros álbumes de Bowie. A Camine Rojas se le puede escuchar tocando el bajo en canciones como "Let's Dance" y "Modern Love". Gerry Leonard fue el guitarrista en los últimos álbumes de Bowie como 'Heathen', 'Reality' y 'The Next Day'.
La gira comenzará el 10 de Enero en París, recorrerá parte de Europa y llegará a Canada y Estados Unidos en Febrero y Marzo.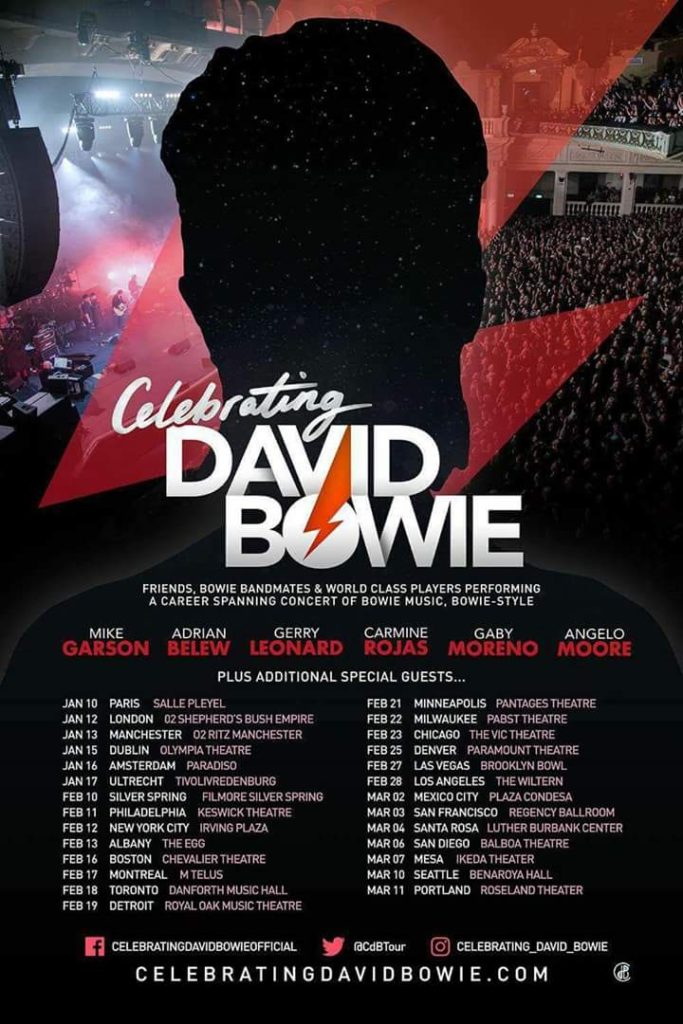 Comments
comments