It seems that 2016 has been full of bad and disastrous news. For a large part this is true, but something to be thankful for is that we have had very year with good music. That never fails.
And shortly before the end of the year and start another more disastrous, we find a band that is more than prepared for the apocalypse. Well, they have the equipment, the lyrics and the sound to set the crazy and turbulent world we live in.
Formed at the end of 2014. HAERDSMAELTA is a band inspired by having the wrong things in the wrong places. From the city of Upsala in Sweden, they are releasing their second EP '' The Whiter Album ", an album that is part of a trilogy that they complete in 2017 with "Gone In Gray" and began with the 2015 EP '"Atom Hearth Mother Fuckers".
Influenced by heavy industrial sound, punk rock, horror films and the decadence of the world, HAERDSMAELTA is a band that furiously screams and expresses its discomfort and criticism of the human unbalance, ignorance, and the zombie state and the unconscious way of seeing that the things around are falling and we worrying more about the battery of our cell phones.
We had the opportunity to do this interview with Aerberg, drummer and main voice of the band.
The Whiter Album have knocked out us. It sounds really great, congratulations! A great journey of energy, it make us headbanging all the time and repeat again. But you're still a relative and cool mystery. Introduce us to the band.
We are thrilled to hear that you like THE WHITER ALBUM. So do we. It is definitely our best second EP so far. If there is a mystery about HAERDSMAELTA it is probably because we are still an unknown band to most people. The fact that we use masks also contributes of course. We want to leave our pretty faces out of the concept of HAERDSMAELTA because we think it would ruin the experience for the consumers. You wanted a short presentation of the Haerders and here it comes:
BJOERK – Guitarist and band engineer. Constantly building weird stuff and connecting guitar amps to different devices, such as smoke machines or lie detectors. At the moment he is constructing some kind of nuclear reactor in our rehearsal room.
SPRAENG – Bass player and chief of image. The tallest of the Hearders and an experienced soul in the scene of extreme music. He actually was a real rock star in the mid 1980's!!!!
AEBERG – Drummer, lead screamer and musical dictator. This Hearder is primarily a drummer that lost a game of "rock, scissors, and paper" where the lead vocalist position in HEARDSMAELTA was at stake.
What's the history behind the name Haerdsmaelta?
This is a misspelling of the Swedish word for core meltdown that suits the idea of the music and the way we perceive the state of the world. We have a quite negative attitude towards how things are right now.
What influenced you at a young age to form a band?
To me it was never a choice. For as long as I can remember I have had the urge to create intensive and, to some extent, destructive music. Still today there is not much of a choice. It just seems that I am not able to not play music in a band. Some days it is great and some days it is downright awful. But I can't stop doing it. It steals my time and my money… but then… when that itch hits you, it hits you hard, and playing music gives the best scratch you can get.
We hear elements of punk rock, it remind us bands like Lard. Impressive work on Atom Heart Mother Fuckers and The Whiter Album. Really adds a dynamic element to the bands image. What other non-musical influences play a part in the inspiration of the band?
SPRAENG is a great fan of horror and splatter movies. BJOERK is a collector of old cars and expensive liquor. AEBERG is addicted to social media and really gets inspiration from all the idiocy that is literally flooding our global communication systems. People tend to bring out the worst of them selves on the Internet, and that is both inspiring and totally repulsive.
By having the wrong things at the wrong places, it seems the other way around when we heard both EP's, you have a kick ass sound and songs.
Well, thank you. We may have to change that to "having the right things at the right places". That is actually a better slogan. We will use it on our next record.
You did a grat job capturing the guitar, drums, bass and the voices. Did you produce the album or who did you work with in the recording and production process?
We have had the great privilege to work with Mr Larry Lethal from the Swedish thrash metal band F.K.U. Larry is a great producer and technician and helped us capture the essence of HAERDSMAELTA in our recordings.
While we're on the subject of recording, can you guys tell us how was the experience recording the EP, ¿what was the most challenging part and what do you enjoy the most?
The recording philosophy has been "Quick and dirty". Both EP's were recorded and mixed in a total of four days. One day for drums, bass and guitars. One day for vocals. One day for additional guitars and over-dubs, and finally one day for mixing the songs. And then… Bam! Record finished. Just like that. But, even though it has been quick we do not think our first two recordings have been dirty enough. We need to add some more dirtiness in the future. Dirty as in elements from the noise core scene and German industrial underground metal bands. Not dirty as in half-naked women with tattoos, we are too old and too prude for that.
The record seems to just have a very natural flow. The music words come across as sincere and pure. If you don't mind, can you take us through each song on the new Ep and tell us whatever you like about it?
A MOMENT OF NUCLEARITY
This is the introduction of the EP. It is a piece written by BJOERK and we think it just puts the listener in some kind of a strange and a bit uncomfortable mood. The song really gives the picture of a grand christian church mass where all the uncomfortable things associated to institutionalized religion comes in mind, brain washing, suppression, fact resistance, etc.
GET READY (TIME TO DIE)
Well, this is a repetitive rock/punk song that is more or less based on the surplus energy that comes with the feeling of frustration. All the verses describe in different ways how the world is at the edge of a black hole, filled with all the ingredients of human extinction. Behind the back of the world stand two lunatic leaders of the most powerful nations, ready to push… And all this while most people is unaware and instead worries about the battery range of their smart-phones.
TORCH THE TWAT
This is my (AEBERG) favorite song from this EP. It was quickly written and the music and lyrics just fell together naturally. The song deals with the human nature and how we tend to organize in suppressing collectives and torture those who we choose to project our own fears and ignorance on. We are as human beings truly despicable in some senses.
BORN TO BE IDLE
This song has been around for a long time and it has finally found its home. The chorus came to me while listening to a song called "Bone Idol" and I incorrectly heard the words "Born Idle", which I thought had a much more interesting meaning. Most of us are really born to be idle, right? In the lyrics the state-of-the-art of born-to-be-idleness is described which to us is the Swedish royal family. The Swedish society spends a huge amount of tax money on a family that really has no meaning but to "represent" Sweden internationally, a job that they really suck at. The money could do so much better things if spent elsewhere.
STREET BEATS
Haha! This was supposed to be action-punk-rock. The song is written with early action rock bands in mind. That is action rock as it sounded before it became lame (bands like The Saints and Tapeworm). But the production made it much thicker and hard rock then what was intended, so now we do not know what it is any more. But we still like it. The lyrics obviously deal with the dark alleys of the world where common sense and legal institutions are replaced by street law. Kill or be killed. It is just stupid really. We know nothing about that. But the song is still one of our favorites.
VIRTUE OF IGNORANCE
This is our message to the world. It is as much a song as it is a speech proclaiming the imbalances of the universe. To us it seems that the urge to suppress others is one of the main driving forces behind everything. It is so sad.
I'M ALIVE
This song is nearly entirely written by a non-hearder. This is the work of our great friend David Berlin (A Wheel In the Sky, Mother Superior (SWE), Snuffed by the Yakuza, etc.). We love the song, but if you want to know the deeper meaning of it you have to ask David. It is destructive glam rock in our ears, and who would not need more of that in their life?
What is your songwriting process like? Do the three of you have a process or do they just develop naturally as you're banging things out?
Songs tend to evolve inside AEBERGS head and after some basic demos are made they are brought to rehearsal and gets heardified by all three of us. But this is not a definite process though. Good songs are welcome to become haerdsongs wherever they come from as long as they are good. We also cover other songs and one example of that is the song No Tears that was released as a digital single last summer. We love that song and we will put out more cover songs whenever we feel it is worth putting out.
We saw that you going to be putting out a vinyl pressing of the album? Most of us here are vinyl junkies, so we'd definitely like to see more vinyl releases.
We dig vinyl due to the great sound and the good feeling of just having it in your hands. We don't know how things work in Mexico but up here in Scandinavia music is mainly consumed via different streaming services nowadays. But some people like to buy a vinyl copy of the music as well. We think the vinyl makes the release a bit more immortal than just having the music available for streaming. CD is totally dead up here.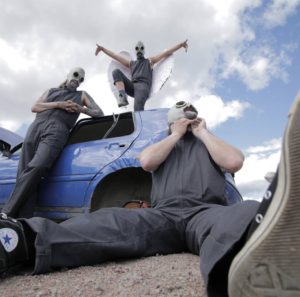 ¿About your gear? ¿What kind of drums/ guitar/bass do you like to use and what special sound brings to the band?
SPRAENG is actually sponsored by Sandberg and therefore plays a Sandberg bass, mainly because he cannot afford anything else. BJOERK buys new guitars every week so it is hard to say. But right now he is playing some kind of fender, we think… AEBERG once had the opportunity to get a drum kit for free. This kit had been in a house that was burnt down to the ground while the kit miraculously survived. After that the kit was placed in a dirty old shed that had been used as a hen house and not been cleaned for four years. The cover of the drums was somewhat melted by the heat of the fire and everything was covered in soot, and bird droppings. The drums however still works and sounds ok. We have cleaned it a little bit to get rid of some of the smell.
What can a Haerdsmaelta show virgin expect to experience when they see you live for the first time?
Hopefully they will see us inside a rather small venue with a lot of intimacy between the band and the audience. We play short live sets, about 30 minutes, which means about 10-14 of our songs. Short, or no, breaks between the songs. We aim to keep the energy level and the volume high because our music just does not come to its right otherwise. The experience of the show will be as much up to the audience as it will be up to us. We were masks, you were whatever you feel comfortable in.
Your have very cool videos, we like a lot 'No Tears'. You already release a video of the great 'Torch The Twat' ¿Do you have plans for more videos for this new album?
We have lots of plans. We have a great friend in Simon Wettervik who is also a video maker. We are constantly discussing new ideas for videos. We are to film a live video this week. And after that we are planning to make an apocalyptic low-life wrestling video where we beat the crap out of each other. That is going to be fun.
¿ When you are on the road which are your favorite albums to listen to or when you are stuck in traffic which one makes you not go crazy while waiting?
Haha! We have very different taste in music. So trying to agree on something that we all want to hear at the same time is probably much more likely to drive us insane than traffic. So, either we all listen to whatever we feel like in separate earphones, or we just turn the music off. Sometimes though we listen to KISS (the band not the drink), which we all like.
¿What's coming next? ¿ Any tour or ideas for new songs or an album?
We have not planned any tour yet. We play as much as we can in our local area in weekends just because it is more comfortable. But touring will probably be inevitable in the future, first we'll take Europe and then the rest of the world, if it is still there by then. During the spring of 2017 we will record the third EP of our triology that will be named GONE IN GREY. Hopefully it will be released during the summer of 2017. We are absolutely shure that it will be an amazing record that it will complete and finish what we have started with Atom Heart Mother Fuckers and The Whiter Album.
Thank you so much for the interview. For creating music and share it with the world. We really appreciate you taking the time to have this interview. I'm sure other folks will enjoy it too.
Thank you very much for making this interview.
You can hear, buy and suport Haerdsmaelta here in their bandcamp.
We thank AEBERG and HAERDSMAELTA fot this interview.
Photos: Facebook HAERDSMAELTA
Comments
comments