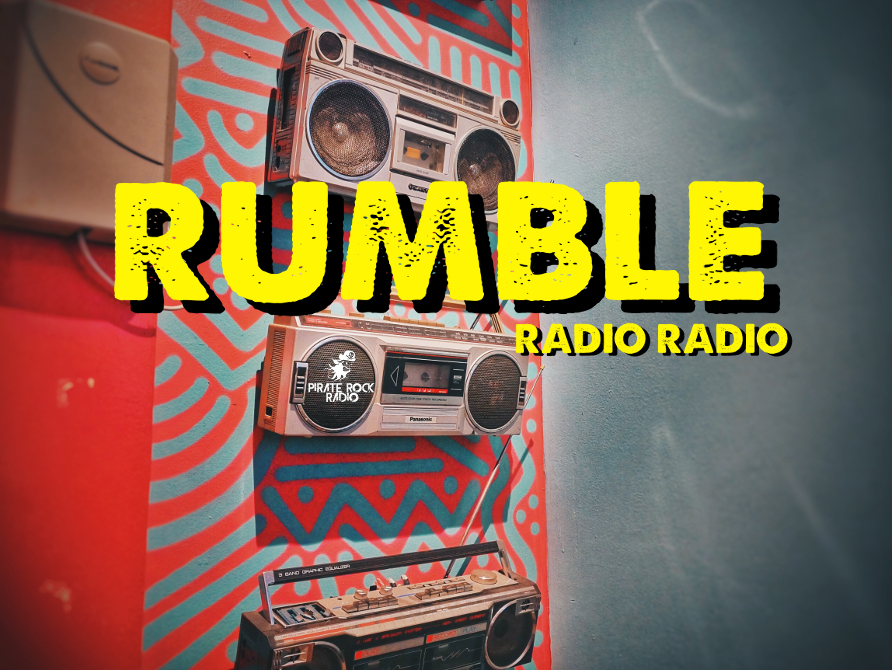 Rumble: Radio Radio
April 25, 2018
Hemos regresado al micrófono. Ha pasado un largo tiempo, lo admitimos. Rumble quedó enlatado en las carpetas de podcast y audios que aún siguen pendientes para editar y publicar algún día. A diferencia de los programas anteriores, este tuvo un comienzo fresco. Rumble tuvo 5 episodios que se transmitieron por Radio Bela en el 2016 y aunque en ese entonces sabíamos que no duraría mucho y no pasaríamos de esos 5 episodios, lo disfrutamos y nos dio empuje para no dejarlo olvidado por ahí. Pero las cosas cambian, los problemas se juntan, personas van y vienen y a veces es simplemente no hacer nada y dejar que vuelen las horas y los días.
La única constante de este proyecto ha sido siempre la música y aunque el bloqueo mental muchas veces nos impide escribir y generar nuevo contenido, nos metimos a grabar hace un mes y empezamos a poner las cosas en orden, tachar cosas de la listas arrumbadas y reiniciar todo.
Esta primera emisión de Rumble va dedicada a la magia del radio y sus momentos. Cuando enciendes el auto y escuchas una canción que te hace bailar y cantar. El radio te acompaña, es un amigo que esta ahí todo el tiempo y a veces pone tu banda favorita o te presenta una que no conocías. Te lleva a viejos recuerdos o crea nuevos. Y aunque en estos días ya este lleno de basura todavía hay momentos donde vale la pena dejarla encendida y simplemente escuchar y disfrutar.
Porque aún creemos en la música y en ese aparato que algunos dicen que esta muriendo.
Turn it up
Fucking loud
Radio, Radio, Radio
When I got the music
I got a place to go
Playlist
ZZ Top – Heard It On The X
Todd Rundgreen – Wolfman Jack

The Clash – This Is Radio Clash

Rancid – Radio

The Ramones – Do You Remember Rock N Roll Radio?

Elvis Costello – Radio Radio

Monty Phyton – I bet you they won't play this song on the radio

Rush – The Spirit Or Radio

Menciones honorificas
The Replacements – Left Of The Dial
Tom Petty – The Last Dj
Rage Against The Machine – Guerrilla Radio
Los Fabulosos Cadillacs – Radio Kriminal
Al Stewart – Song On The Radio
Bruce Springsteen – Radio Nowhere
The Ramones – We Want The Airwaves
The Doors – The WASP (Texas Radio and The Big Beat)
Queen – Radio Gaga
R.E.M. – Radio Free Europe
The Beach Boys – That's Why God Made The Radio
The Rolling Stones – Moonlight Mille
Warren Zevon – Mohammed's Radio
Rob Zombie – Dead City Radio
La Polla Records – Radio Crimen
John Hiatt – Radio Girl
Más canciones sobre el radio acá en el Playlist! Si conoces alguna y quieres que se añada, déjala en los comentarios.
Hits: 26
Comments
comments