Termino la espera! Habrá nuevo álbum de The Rolling Stones.
Los rumores de un nuevo material de la banda se han confirmado. The Rolling Stones han grabado un crudo álbum de blues que llevará por titulo "Blues & Lonesome" y que será lanzado el próximo 2 de Diciembre. Este disco será una compilación de covers de algunos clásicos del blues, con temas de Little Walter, Jimmy Reed, Willie Dixon, Eddie Tyalor y Howlin´Wolf. 
La banda publico previamente algunos promos sobre este lanzamiento. Hoy han compartido un pedazo del primer sencillo"Just You Fool", canción original de Little Walter. El álbum cuenta con la colaboración de Eric Clapton en los temas "Everybody Knows About My Good Thing" y "I Can't Quit You Baby".
"Blues & Lonesome" se grabo en tres días en Londres el pasado mes de Diciembre y fue producido por Don Was y The Glimmer Twins.  Eric Clapton se encontraba grabando en el estudio siguiente de los Stones, cuando paso a saludar y grabar algunas canciones. Los músicos recurrentes de la banda también grabaron en el álbum. Darryl Jones en el bajo, Chuck Leavell en teclados y Matt Clifford en piano.
Los rumores de este álbum comenzaron a tomar fuerza cuando Keith Richards y Ronnie Wood hicieron algunos comentarios acerca de un nuevo álbum y que probablemente sorprendería a la gente. Wood comento que la banda había entrado al estudio y en dos días grabaron 11 canciones, una racha de puro blues.
El productor Don Was hablo del disco como algo crudo y lleno de blues autentico.
"Blues & Lonesome" ya puede ser pre-ordenado. Llegará el 2 de Diciembre. "Just You Fool" se puede escuchar completa en Spotify.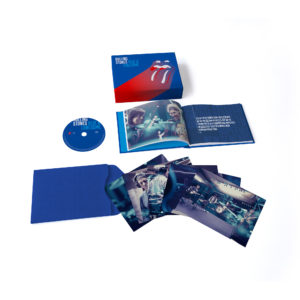 The Rolling Stones, 'Blue & Lonesome' Track List
"Just Your Fool" (Original escrita y grabada en 1960 por Little Walter)
"Commit a Crime" (Original escrita y grabada en 1966 porHowlin' Wolf – Chester Burnett)
"Blue and Lonesome" (Original escrita y grabada en 1959 por Little Walter)
"All of Your Love" (Original escrita y grabada en 1967 por Magic Sam – Samuel Maghett)
"I Gotta Go" (Original escrita y grabada en 1955 por Little Walter)
"Everybody Knows About My Good Thing" (Original grabada en 1971 porLittle Johnny Taylor, compuesta por Miles Grayson & Lermon Horton)
"Ride 'Em On Down" (Original escrita y grabada en 1955 por Eddie Taylor)
"Hate to See You Go" (Original escrita y grabada en 1955 por Little Walter)
"Hoo Doo Blues" (Original grabada en 1958 por Lightnin' Slim, compuesta por Otis Hicks & Jerry West)
"Little Rain" (Original grabada en 1957 por Jimmy Reed, compuesta por Ewart.G.Abner Jr. y Jimmy Reed)
"Just Like I Treat You" (Original escrita por Willie Dixon y grabada por Howlin' Wolf en Diciembre 1961)
"I Can't Quit You Baby" (Original escrita por Willie Dixon y grabada por  Otis Rush en 1956)
Comments
comments