Formed in 2016 and from the United Kingdom, Jet Black 3 is a new sound offer for all fans of Blues and Grunge, a combination of inspired sounds ranging from Californian rock of the 60s to 80s rock. Phil on guitar , Rob in the vocals and Simon "Snowy" in the drums have made an explosive combination of heavy elements only between the guitar, drums and voice.
With a distinctive sound and clear influences of Stone Temple Pilots and the voice of Scott Weiland, the sound cocktail offered by this band whose primary tone and varied and melodic approach evokes more touches of traditional rock and grunge, guitarist Phil Borrett has created his own style of riffs and melodies through a guitar amplifier and a bass amplifier that results in a characteristic spectral sound.
His first Ep consists of 3 songs that give a good overview of what these English can do. From his initial track "Why On Earth". With a melodious entrance and vocals, the song takes strength with the first riffs of the guitar and drums. Good start with strength to know that something good is in this and definitely we have to stay to hear it full.
It follows "Reing" thunderous song that they released as a single and with which they captured the interest of several media and stations in the United Kingdom and the United States. The EP closes with "Why My Name" a quick and groove song where the voice of Robert Papworth brings us back a little to those grunge voices and tones of the nineties.
His most recent single is "Carousel", a theme where the band shows more identity and its own sound. The musical path that the band is taking is a good indication that they are cooking very good things in the future.
We talk to the band about their Ep, the recording process and the future of their music.
Can you give us a little background of how the band started and ¿why the name Jet Black 3?.
The band started with Phil (guitar) and Robert (vocals) being in bands previously and after a break from those bands wanting to start something fresh combining our styles. Simon aka 'Snowy' (drums) rounded off the band that combine mutual tastes but also every members own influence. The name came about through always wanting the band to be a 3 piece and a lot of drinking of a beer called Jet Black Heart a wicked stout by BrewDog.
¿What are some influences on Jet Black 3?
The main influences are Scott Weiland from Stone Temple Pilots and Velvet Revolver. We all have a great respect of his style and songwriting. Individually Rob is a big Led Zeppelin man. Phil takes a lot from Neil Young and guitar style from bands like 3 Colours Red and At The Drive-in. Simon is a big Queens of the Stone Age fan and into a lot of stoner rock.
One of the things we've enjoyed most of your songs is how accomplished your sound is and how you managed to create your own style. We believe that this is one of the most complicated tasks that any band has. What you have done here, puts Jet Black 3 in a distinctive place above many new bands.
¿How was the process to reach that sound and then take it to the studio?
I think what makes the sound different musically is we don't have a bass player. Phil runs a bass amp and guitar amp on stage with the low end running through a few pedals to produce a bass type sound with a normal guitar signal for the traditional rock guitar signal. That and Robs individual style with snowy's heavy drum riffs give the band a big sound but something we think is pretty original.
The style has taken a couple years to get where it is and taken a lot of adjustments mainly through Phil's pedal board to get where it is now. The studio work has actually been pretty easy and what we produce live is hopefully not far away from what we put on record.
¿For the writing and composing process, how Jet Black 3 works? ¿what inspired writing the lyrics?
Phil and Rob live and work together so spend most of the day talking and getting ideas for songs. Most songs start from a riff and start low key with hand drums and acoustic or semi acoustic guitars. Being around in the same house together means we get a lot of songwriting done which gives us room to select the songs we feel are the strongest. Robs lyrics I think come from a vast source of people watching along with life experience and taking in surroundings. Working in a bar also must give a lot of inspiration from the people that come and go.
While we're talking of the recording process, can you guys tell us how was the experience recording the EP. ¿what do you enjoy the most?
The EP was great to record. We spent a week in London with Animal Farm with a great producer. He helped shape the songs and taught us a lot about key elements of what makes a song. It's always a daunting task knowing you have limited time to produce something you feel is strong live and hope you can capture it recorded. It's also the most enjoyable/rewarding part, hear it coming together and get stronger with every instrument added.
Would you be willing to guide us through the tracks on the Ep and give us any insight into each of the songs?
The EP is about a year old now so has some of our first songs written together. 'Reign' is one of the first riffs Phil brought to Rob and is still now the track which when we play live seems to get people going the most. 'Remember My Name' came together in the studio to be our most well known track as I think it's the one with best hook and catchiness to it. The track 'Why on Earth' is one of the bands if not the bands favourite to play live. We feel it's been overlooked slightly but guess we might come back to it one day and do a video maybe to get it out there more.
The song 'Carousel' was a recently written song when we recorded it but all 3 of us felt it was the song we had to record next. It has a different feel to it and a style that the band seem to be heading towards.
The songs seems to have a very natural flow, but more important is the conjunction of you as a rock trio and how well you work and sound together, just drums, guitar and voice. The best example of that is your latest single 'Carousel'. It sounds awesome!! It brings us a great vibe from bands like The Black Crowes, but as we said before, this single already has your own trademark sound. We would like to hear more of this. It's incredible!. ¿Are you already working on new things? ¿An album maybe?
We are due to go back to the studio in a few weeks to start a new single. We would more then anything want to record an album but costs wise more then anything is the problem. The upside of recording singles is we write a lot of stuff which means we can keep current with where we are at the present moment .
We would love to know more about your local scene. Any bands you think we should keep an eye on and an ear out for?
There are a few bands from the South West we have played with and have a lot of respect for The Experimental are an amazing band with catchy tunes as well as a massive live sound. Black Tree Suns also give a great and entertaining live grunge rock band and young lads Kaluss are starting to make a big impact locally.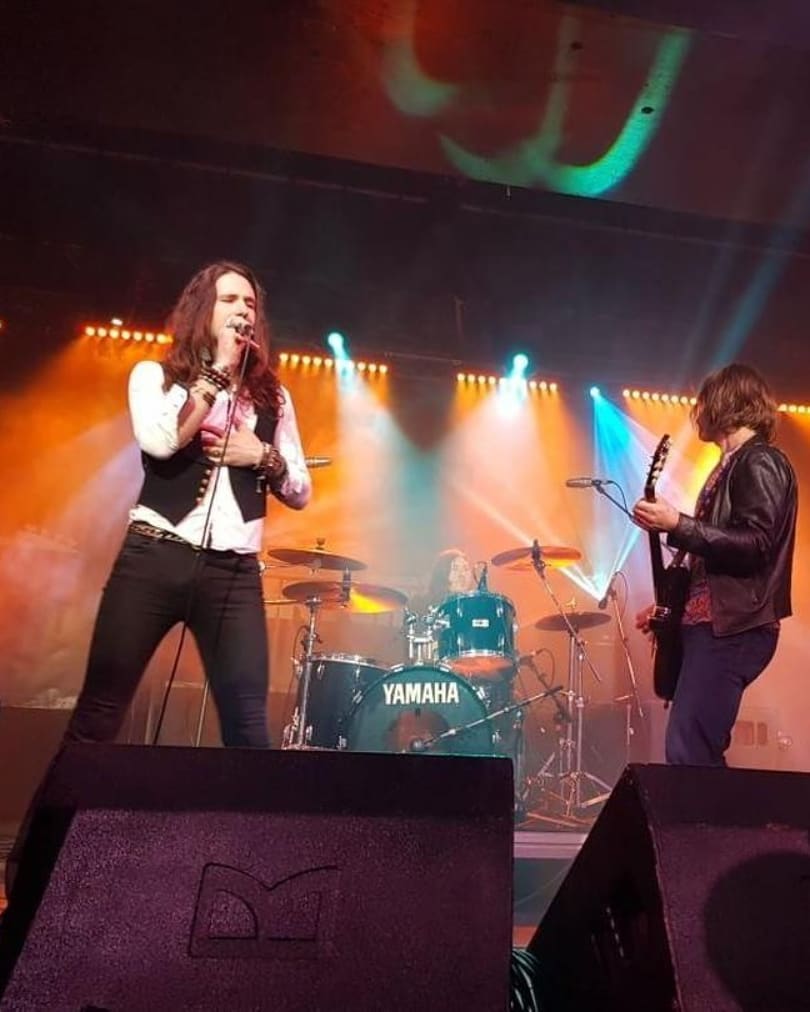 ¿When you are on the road which are your favorite albums to listen to or when you are stuck in traffic which one makes you not go crazy while waiting?
On the road we love Stone Temple Pilots and Velvet Revolver. Guns 'n' Roses is always a big singalong and Black Stone Cherry is always about. Stuff like The Who, Led Zeppelin and Stone Roses are always on in the van too.
¿What's the vision for Jet Black 3 to moving forward? ¿What do you each hope to bring to the table and where do you think the project will go next?
We hope to be playing more and more live its what it's always been about. More Festivals would be the key which we are getting some help with and of course hitting Mexico and sharing a few tequilas with you guys would be great fun.
Thanks for the support guys really appreciate any help you guys can give to the band.
Thanks for answering the questions. We wish you the best of luck. Keep rockin'. Hope to see you playing in México someday.
We want to thank again to Jet Black 3 for the interview and the photos.
You can listen and follow Jet Black 3 here: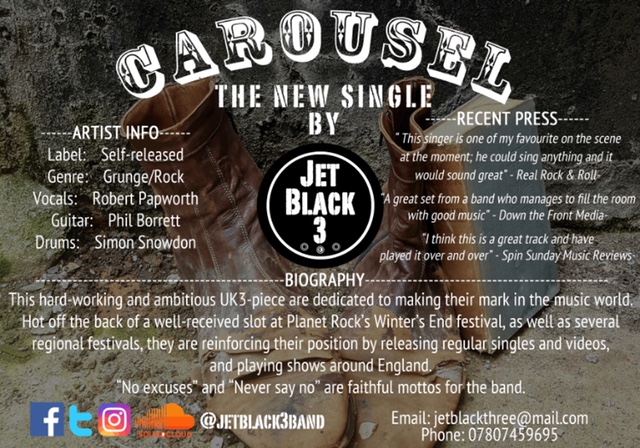 Comments
comments