Una vez más Bob Dylan se adentra en el vasto catalogo de las canciones americana con el lanzamiento de 'Triplicate', nuevo álbum de covers a canciones clásicas de la música estadounidense. 'Triplicate' será el primer álbum triple de la carrerra de Bob Dylan y contendrá 30 canciones. Cada uno de los discos tendrá una temática y nombre diferente.
'Triplicate' saldrá a la venta el 31 de Marzo y estará disponible en varios formatos como la edición CD, una edición en vinilo, digital y una versión de vinilo de lujo numerada. El nombre de los tres álbumes son 'Til The Sun Goes Down', 'Devil Dolls', 'Comin' Home Late'. Este álbum es la continuación de 'Shadows In The Night' del 2015 y 'Fallen Angles' del año pasado. Una vez más el álbum esta compuesto por nuevas versiones de temas grabados por Frank Sinatra.
Dylan y su banda comenzaron la grabación el año pasado en los estudios Capital de Hollywood para grabar canciones especialmente seleccionadas de varios compositores americanos, como Charles Strouse y Lee Adams ("Once Upon A Time"), Harold Arlen y Ted Koehler ("Stormy Weather"), Harold Hupfield ("As Time Goes By") y Cy Coleman y Carolyn Leigh ("The Best Is Yet To Come").
Pueden escuchar el primer adelanto del álbum 'I Could Have Told You'
Bob Dylan una vez más demuestra por que sigue vigente y haciendo música bajo sus propias reglas. El año pasado fue galardonado con el Premio Nobel de Literatura y continuo los lanzamientos de la serie The Bootleg Series.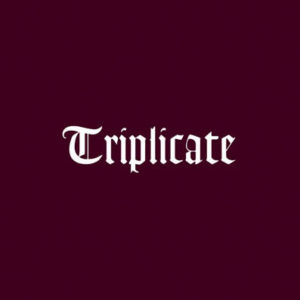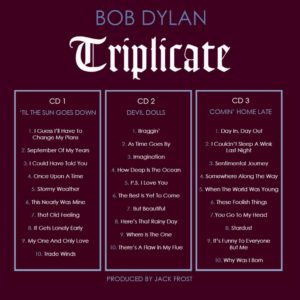 "Triplicate"
Disco 1 – 'Til The Sun Goes Down
I Guess I'll Have to Change My Plans
September Of My Years
I Could Have Told You
Once Upon A Time
Stormy Weather
This Nearly Was Mine
That Old Feeling
It Gets Lonely Early
My One and Only Love
Trade Winds
Disco 2 – Devil Dolls
Braggin'
As Time Goes By
Imagination
How Deep Is The Ocean
P.S. I Love You
The Best Is Yet To Come
But Beautiful
Here's That Rainy Day
Where Is The One
There's A Flaw In My Flu
Disco 3 – Comin' Home Late
Day In, Day Out
I Couldn't Sleep A Wink Last Night
Sentimental Journey
Somewhere Along The Way
When The World Was Young
These Foolish Things
You Go To My Head
Stardust
It's Funny To Everyone But Me
Why Was I Born
Comments
comments