¡El álbum en vivo Budokan 1978 Completo!
El próximo lanzamiento de archivo de Bob Dylan es The Complete Budokan 1978, que será lanzado por Columbia Records y Legacy Recording el viernes 17 de noviembre.
La caja de lujo celebra la gira mundial de conciertos de Dylan en 1978 y el 45 aniversario de sus primeras apariciones en conciertos en Japón.
The Complete Budokan 1978 presenta dos conciertos completos grabados originalmente en cintas analógicas multipista de 24 canales en el Nippon Budokan Hall de Tokio el 28 de febrero y el 1 de marzo de 1978.
Incluye 36 interpretaciones inéditas de Dylan, y ya se puede escuchar una interpretación inédita de "The Man In Me" de The Complete Budokan 1978.
The Complete Budokan 1978 estará disponible en 4CD, 8LP (solo Japón) y en formato digital. También está disponible Bob Dylan – Another Budokan 1978, una edición destacada de 2 álbumes que incluye 16 temas inéditos de la caja.
The Complete Budokan 1978
4-CD Deluxe Box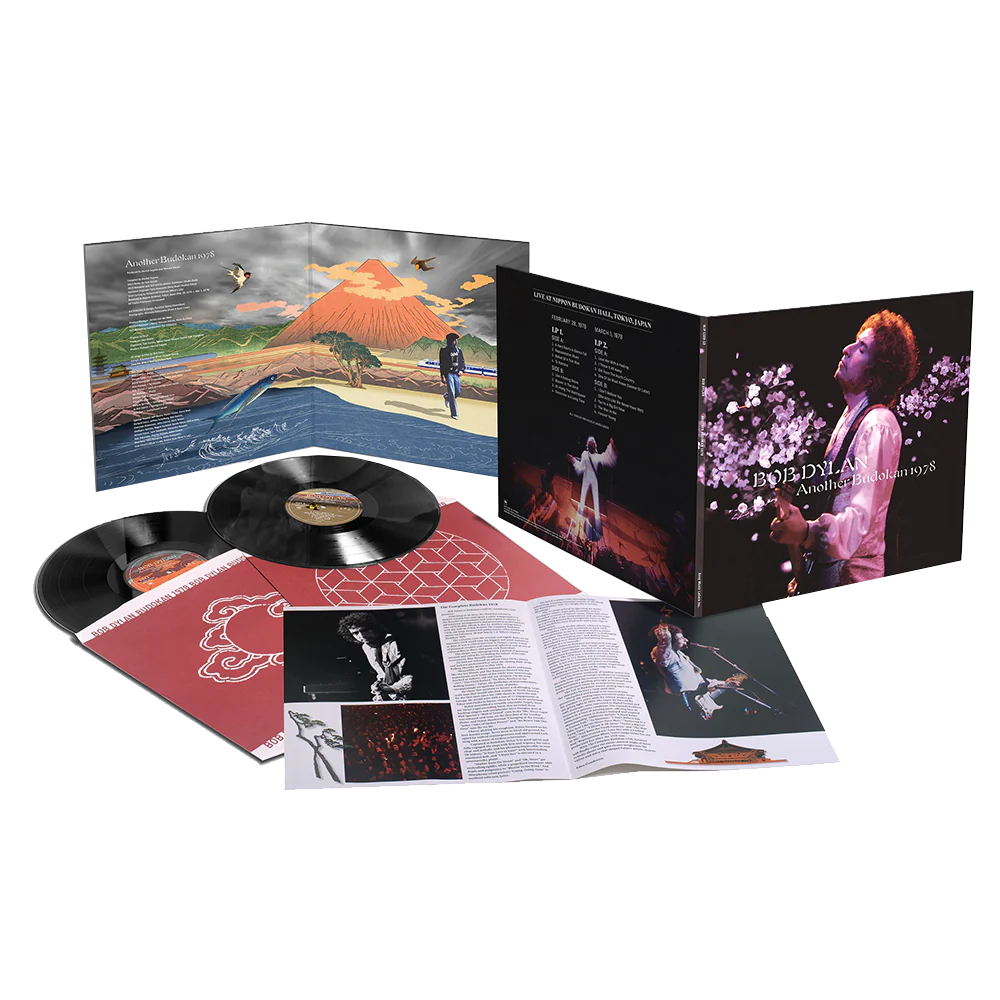 Live at Nippon Budokan Hall, Tokyo, Japan – February 28, 1978
CD1
A Hard Rain's A-Gonna Fall*
Repossession Blues*
Mr. Tambourine Man*
I Threw It All Away*
Shelter From The Storm
Love Minus Zero/No Limit
Girl From The North Country*
Ballad Of A Thin Man*
Maggie's Farm*
To Ramona*
Like A Rolling Stone*
I Shall Be Released*
Is Your Love In Vain? *
Going, Going, Gone*
CD2
One Of Us Must Know (Sooner Or Later) *
Blowin' In The Wind*
Just Like A Woman*
Oh, Sister*
Simple Twist Of Fate
You're A Big Girl Now*
All Along The Watchtower*
I Want You*
All I Really Want To Do*
Tomorrow Is A Long Time*
Don't Think Twice, It's All Right
Band introductions*
It's Alright, Ma (I'm Only Bleeding)
Forever Young
The Times They Are A-Changin'
Live at Nippon Budokan Hall, Tokyo, Japan – March 1, 1978
CD3
A Hard Rain's A-Gonna Fall*
Love Her With A Feeling*
Mr. Tambourine Man
I Threw It All Away*
Love Minus Zero/No Limit*
Shelter From The Storm*
Girl From The North Country*
Ballad Of A Thin Man
Maggie's Farm
One More Cup Of Coffee (Valley Below)
Like A Rolling Stone
I Shall Be Released
Is Your Love In Vain?
Going, Going, Gone
CD4
One Of Us Must Know (Sooner Or Later) *
Blowin' In The Wind
Just Like A Woman
Oh, Sister
I Don't Believe You (She Acts Like We Never Have Met) *
You're A Big Girl Now*
All Along The Watchtower
I Want You
All I Really Want To Do
Knockin' On Heaven's Door
The Man In Me*
Band introductions*
It's Alright, Ma (I'm Only Bleeding)*
Forever Young*
The Times They Are A-Changin'*
*Previously Unreleased
The Complete Budokan 1978
8-LP Deluxe Box
Live at Nippon Budokan Hall, Tokyo, Japan – February 28, 1978
LP1 – Side A
A Hard Rain's A-Gonna Fall*
Repossession Blues*
Mr. Tambourine Man*
I Threw It All Away*
LP1 – Side B
Shelter From The Storm
Love Minus Zero/No Limit
Girl From The North Country*
Ballad Of A Thin Man*
LP2 – Side A
Maggie's Farm*
To Ramona*
Like A Rolling Stone*
LP2 – Side B
I Shall Be Released*
Is Your Love In Vain? *
Going, Going, Gone*
LP3 – Side A
One Of Us Must Know (Sooner Or Later) *
Blowin' In The Wind*
Just Like A Woman*
Oh, Sister*
LP3 – Side B
Simple Twist Of Fate
You're A Big Girl Now*
All Along The Watchtower*
I Want You*
LP4 – Side A
All I Really Want To Do*
Tomorrow Is A Long Time*
Don't Think Twice, It's All Right
Band introductions*
LP4 – Side B
It's Alright, Ma (I'm Only Bleeding)
Forever Young
The Times They Are A-Changin'
Live at Nippon Budokan Hall, Tokyo, Japan – March 1, 1978
LP5 – Side A
A Hard Rain's A-Gonna Fall*
Love Her With A Feeling*
Mr. Tambourine Man
I Threw It All Away*
LP5 – Side B
Love Minus Zero/No Limit*
Shelter From The Storm*
Girl From The North Country*
Ballad Of A Thin Man
LP6 – Side A
Maggie's Farm
One More Cup Of Coffee (Valley Below)
Like A Rolling Stone
LP6 – Side B
I Shall Be Released
Is Your Love In Vain?
Going, Going, Gone
LP7 – Side A
One Of Us Must Know (Sooner Or Later) *
Blowin' In The Wind
Just Like A Woman
Oh, Sister
LP7 – Side B
I Don't Believe You (She Acts Like We Never Have Met) *
You're A Big Girl Now*
All Along The Watchtower
I Want You
LP8 – Side A
All I Really Want To Do
Knockin' On Heaven's Door
The Man In Me*
Band introductions*
LP8 – Side B
It's Alright, Ma (I'm Only Bleeding) *
Forever Young*
The Times They Are A-Changin'*
*Previously Unreleased
Another Budokan 1978
2-LP with Gatefold Sleeve
All Tracks Previously Unreleased
Live at Nippon Budokan Hall, Tokyo, Japan – February 28, 1978
LP1 – Side A
A Hard Rain's A-Gonna Fall
Repossession Blues
Ballad Of A Thin Man
To Ramona
LP1 – Side B
Like A Rolling Stone
Blowin' In The Wind
All Along The Watchtower
Tomorrow Is A Long Time
Live at Nippon Budokan Hall, Tokyo, Japan – March 1, 1978
LP2 – Side A
Love Her With A Feeling
I Threw It All Away
Girl From The North Country
One Of Us Must Know (Sooner Or Later)
LP2 – Side B
I Don't Believe You (She Acts Like We Never Have Met)
You're A Big Girl Now
The Man In Me
Forever Young
Comments
comments