Esto definitivamente será intenso.
Primus y Clutch han anunciado una gira en conjunto que pinta como uno de los mejores conciertos para este verano. El nombre del tour es "Evening With Primus and Clutch" y consistirá de 24 fechas de Julio a Agosto.
La gira comenzará el 17 de Julio y terminara el 18 de Agosto en California. Primus continua promocionando su álbum 'Primus and the Chocolate Factory With the Fungi Ensemble', un álbum donde re imaginan el soundtrack de Willy Wonka y la Fabrica de Chocolates, mientras que los veteranos de Clutch siguen presentando el álbum 'Psychic Warfare' publicado en el 2015, Clutch además tendrá su propio festival el 20 de Mayo, el 'Earth Rocker Festival', donde estarán compartiendo escenario con The Sword y Lucero.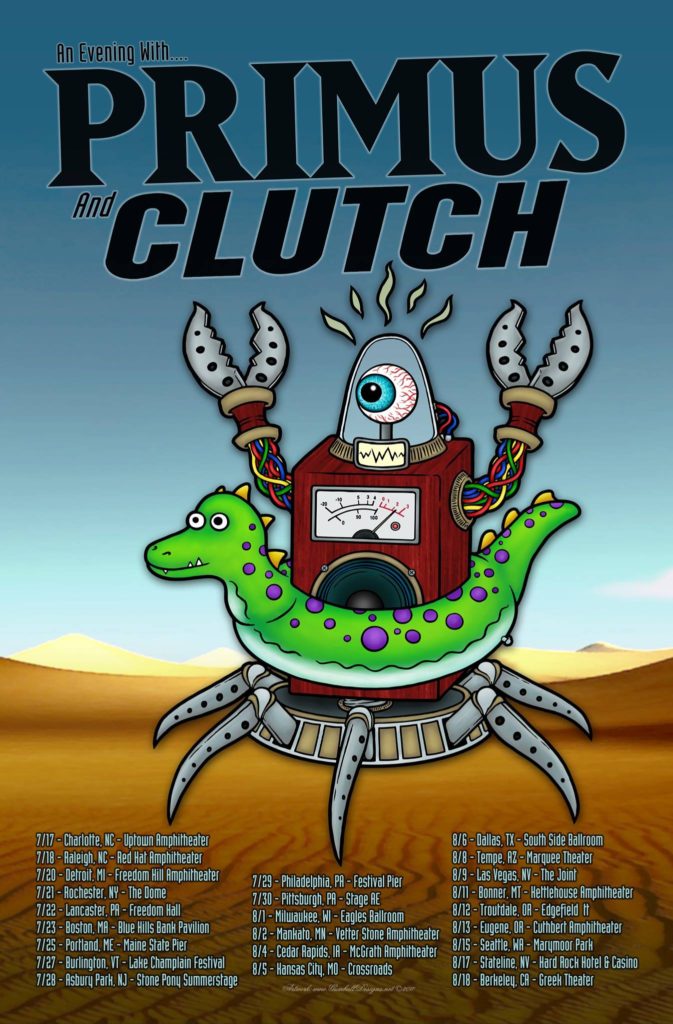 Esta gira sería de sueño para Latino América..esperemos algún día.
Primus, Clutch 2017 Tour
7/17 — Charlotte, N.C. @ Uptown Amphitheater
7/18 — Raleigh, N.C. @ Red Hat Amphitheater
7/20 — Detroit, Mich. @ Freedom Hill Amphitheater
7/21 — Rochester, N.Y. @ The Dome
7/22 — Lancaster, Pa. @ Freedom Hall
7/23 — Boston, Mass. @ Blue Hills Bank Pavilion
7/25 — Portland, Maine @ Maine State Pier
7/27 — Burlington, Vt. @ Lake Champlain Festival
7/28 — Asbury Park, N.J. @ Stone Pony Summerstage
7/29 — Philadelphia, Pa. @ Festival Pier
7/30 — Pittsburgh, Pa. @ Stage AE
8/01 — Milwaukee, Wis. @ Eagles ballroom
8/03 — Mankato, Minn. @ Vetter Stone Amphitheater
8/04 — Cedar Rapids, Iowa @ McGrath Amphitheater
8/05 — Kansas City, Mo. @ Crossroads
8/06 — Dallas, Texas @ South Side Ballroom
8/08 — Tempe, Ariz. @ Marquee Theater
8/09 — Las Vegas, Nev. @ The Joint
8/11 — Bonner, Mont. @ Kettlehouse Amphitheater
8/12 — Troutdale, Ore. @ Edgefield
8/13 — Eugene, Ore. @ Cuthbert Amphitheater
8/15 — Seattle, Wash. @ Marymoor Park
8/17 — Stateline, Nev. @ Hard Rock Hotel & Casino
8/18 — Berkeley, Calif. @ Greek Theater
Comments
comments