Talento joven desde de la ciudad de Oxford, Inglaterra. Hell's Gazelles es una banda con claras influencia del heavy de la vieja escuela, pero con un groove fresco y una propuesta para aquellos en busca de nueva música para mover la cabeza. Los primeros sencillos de su próximo Ep superaron nuestras expectativas por su producción y calidad. Hay muchas ocasiones donde las bandas independientes trabajan demasiado en buscar un sonido y una producción decente y terminan perdiendo su toque, por más limitado o costoso que haya sido conseguir una buena grabación. Hell"s Gazelles ha pulido muy bien su sonido, la calidad de sus canciones destaca por mucho de bandas del mismo circuito que terminan perdiendo ese toque orgánico y furioso. Piensen en bandas como Black Sabbath con Tony Martin, Aerosmith y hasta clásicos de Glenn Hughes y su Black Country Communion. Hell's Gazelles no dudan en dejar su marca, tocar rock y divertirse. Da gusto encontrar bandas nuevas con influencias bien marcadas pero estilo propio y un nuevo aire a la escena del nuevo hard rock.
La banda esta a un mes de publicar su segundo EP "Take Your Medicine" y han estrenado un vídeo para acompañar el sencillo que le da nombre a su nueva placa.
La banda describe los temas como algo monstruosamente sonico y divertido pero con un ligero tono oscuro sobre la sociedad actual. "Esta canción trata de adivinar la duplicidad de los démas y luchar contra lo que acecha en las sombras. tanto dentro como fuera" explica el vocalista Cole Bryant. "Musicalmente representa mucho de lo que hacemos aquí como banda, y tan pronto se escribió, sabimas que deberíamos ponernla en el EP".
Grabado y producido por Chris D' Adda, quien ha trabajado con bandas como Wayward Sons y Toseland, el Ep se grabo en los Vale Studios y mezclado y masterizado por Neil Kennedy en The Ranch Production House. El nuevo material de la banda contiene cinco poderosos tracks con alta energía del hard rock moderno, teñidas con influencias del metal. Hell's Gazelles se han hecho un nombre en el circuito en vivo apoyando a gente como Black Moth, The Treatment, Desert Storm y Bloodstock Open Air, HRH Roadtrip y más con su propia marca de grandes ganchos, rudimentos de bulldozer y acrobacias vocales altísimas cortesía del enigmático líder Cole Bryant. El nuevo Ep y sus cinco canciones estan lista para realzar el perfil de esta joven banda y fortalecerlos como un grupo de rock británico al que hay que echarle un oído.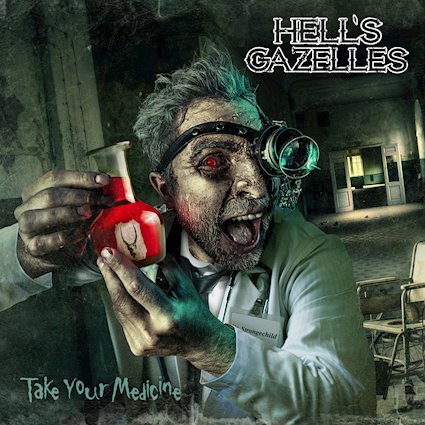 'Take Your Medicine'
1. Give Me Something
2. Stone Cold
3. Out Of Time
4. Take Your Medicine
5. She Devil
Encapsulando toda esa energía de "Take Your Medicine", la portada del EP fue realizada por Very Metal Art, presentando al maniatico cientifico 'Dr. Strangechild '.
"Take Your Medicine" estará disponible el 27 de Julio.
Facebook:
www.facebook.com/HELLSGAZELLES
Comments
comments