El próximo 6 de Abril se publicará el álbum recopilatorio 'Forever Words', un disco tributo a la leyenda del country Johnny Cash.
El día de hoy se publico el tema 'You Never Knew My Mind' canción interpretada por Chris Cornell y que será parte de esta colección de canciones donde también se encuentran Elvis Costello, John Mellencamp, Willie Nelson, The Jayhawks, T Bone Burnett, Alison Krauss, Kacey Musgraves y otros más. El álbum se compone de la poesía, letras y letras desconocidas de Cash, ahora puestas con música por una selección de artistas contemporáneos. Durante casi 60 años, las palabras de Johnny Cash han alcanzado fronteras culturales, espirituales e ideológicas.
El disco saldrá el 6 de Abril por Legacy Recordings en CD, LP y plataformas digitales.
El álbum ha sido producido por John Carter Cash, hijo de June y Johnny y lo ha descrito como un emocionante esfuerzo. John Carter paso dos años recolectando notas y canciones de su padre y junto al productor Steve Berkowitz invitaron a varios músicos para darle vida a las letras.
"Determinar al artista para cada canción fue en realidad un asunto del corazón. Escogí a los artistas que más han conectado con mi padre, que tenían una historia personal que estaba conectada a mi papá. Es un emocionante esfuerzo recorrer estos trabajos, ponerlos juntos y presentarlos a gente que pudiera terminarlos en una manera que a mi padre le hubiera gustado."
Además del audio de la canción hay un vídeo detrás del proceso de grabación con Chris Cornell. En 1996, Johnny Cash grabó una versión de Soundgarden del tema "Rusty Cage", escrita por Chris Cornell, en su álbum ganador del Grammy 'Unchained.' Veinte años más tarde, Cornell escribió el siguiente capítulo en esta relación musical única al establecer un poema recién descubierto de Cash, para crear la nueva y sorprendente canción "You Never Knew My Mind". Fue grabada en el histórico Cash Cabin Studio en Hendersonville, TN, y marca una de las últimas grabaciones solistas de Cornell.
Johnny Cash no solo era un cantante de grandes canciones, sino un narrador de verdades universales sobre la justicia, la fe, el amor y la independencia. Fue en este espíritu que se creó Johnny Cash: Forever Words. Grabado principalmente en The Cash Cabin Studio en Hendersonville, Tennessee y coproducido por John Carter Cash y Steve Berkowitz, Johnny Cash: Forever Words es también el compañero musical de la exitosa película "Forever Words: The Unknown Poems", un volumen de escritos inéditos de Cash editados por el poeta ganador del Premio Pulitzer Paul Muldoon.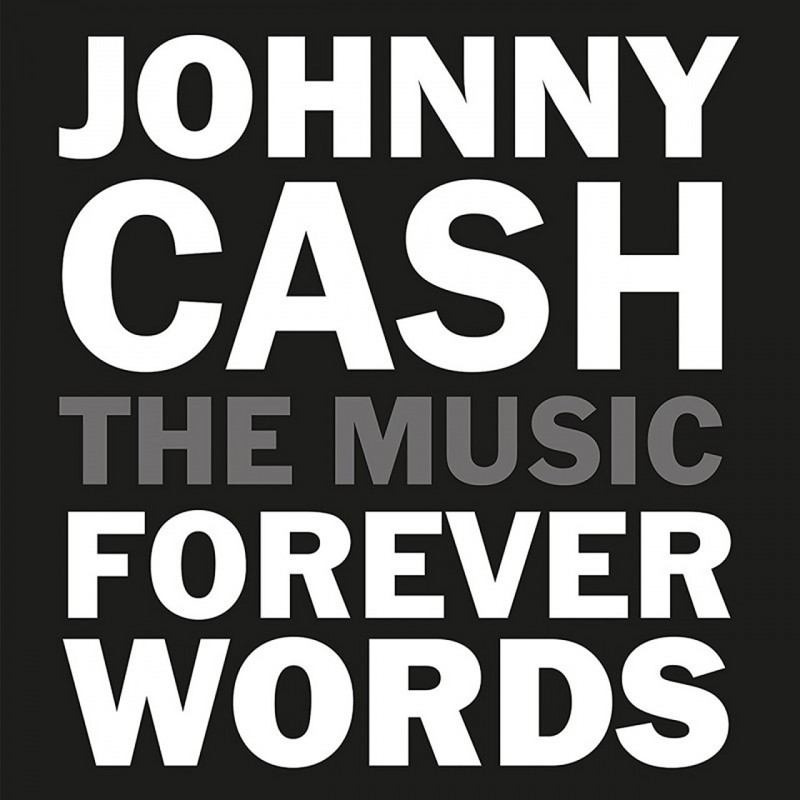 Forever/I Still Miss Someone – Kris Kristofferson and Willie Nelson
To June This Morning – Ruston Kelly and Kacey Musgraves
Gold All Over the Ground – Brad Paisley
You Never Knew My Mind – Chris Cornell
The Captain's Daughter – Alison Krauss and Union Station
Jellico Coal Man – T. Bone Burnett
The Walking Wounded – Rosanne Cash
Them Double Blues – John Mellencamp
Body on Body – Jewel
I'll Still Love You – Elvis Costello
June's Sundown – Carlene Carter
He Bore It All – Daily and Vincent
Chinky Pin Hill – I'm With Her
Goin', Goin', Gone – Robert Glasper featuring Ro James, and Anu Sun
What Would I Dreamer Do? – The Jayhawks
Spirit Rider – Jamey Johnson
Comments
comments