It does not matter how many times it is said that the rock is dead. 2015 has been a year with very good records and new bands. For those who believe that rock really is dead is because they do not turn off the radio and television always full of the same old garbage. The rock is out there, you have to look for it and to reaffirm this you have to listen to Idlewar. It's that simple.
Originally from Orange County, California, Idlewar surprised us a few months ago when we heard his Ep 'Dig In', 5 powerful tracks to shake your head. Rock mammoth, with attitude, direct and visceral. Strong, noisy and straight to the teeth as James Blake tells us in an interview. Formed in 2014 by James Blake on bass and vocals, Rick Graham on guitar riffs and Pete Pagonis on the thundering drums. The band has worked pretty hard on this amazing production, which has undoubtedly become one of our favorites of the year.
With clear influences from bands like AC / DC, Queens Of The Stone Age and Clutch, Idlewar's sound has a unique essence with a force and energy that sticks directly in the face, a powerful trio that makes real rock n roll. His Ep is the result of effort and commitment to his music, a production well done, furious and with all its elements in their place.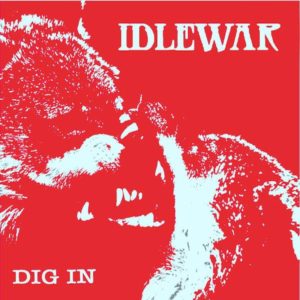 Ep opens with the energetic 'Chunk Of Me' and is only the beginning of the power of this band, a precise sound where you can appreciate all the instruments and the voice, nothing is lost in the mix, something important and very careful in this álbum, because it feels the live and natural environment of the recording. Continues 'Out Of My Head', a more bluesy and groove-filled track, comes after 'Eleventeen' an excellent song that has helped the band to make itself known and is available for download for free. It continues a more intense rhythm with 'Feel The Pain' the longest song of the disc and that continues to intrigue about the surprises that Idlewar has up its sleeve. The final track, 'Stronger' is a killer song and it sounds more to the classic sound of Clutch and the heavier Soundgarden song. These guys rock, that's the final word.
A few weeks ago Idlewar premiered the video for 'Chunk Of Me' and had contact with Pete Pagonis, with whom we made the following interview with James Blake vocalist and bassist of the group.
Interview with James Blake of IDLEWAR
Can you give us a little background of how the band started and why the name Idlewar?.
Rick and I had been playing together for about 7 years and were preparing a new project. Pete was looking to join some like-minded rockers and made contact with me through a music community listing. The name came from a process of working out words that sounded cool together while maintaining easy recognition. The words "idle" and "war" seemed like juxtaposed terms which was interesting and left room for different meanings. Many people offer their insight into what the name means. It's very interesting to hear what they say about it…sometimes it gets pretty deep! We'll let you have your own interpretation for now.
Beside the musical influences that you mentioned in your website, I see that some of you have some favorite albums of The Black Crowes and Zeppelin ¿which other bands or albums do you share?.
The things we enjoy together are bands like Soundgarden, Clutch, ZZ Top, AC/DC, and King's X. Pete is a big fan of Cheap Trick, Rick will really gets down to Queens of the Stone Age and southern rock bands, and I spend a lot of time listening to Sly and the Family Stone. We're pretty eclectic when is comes to our listening, but we know what we think is good and that's what we try to produce: music that moves you.
Orange County is home of bands like Fu Manchu and Social Distortion. ¿The musical atmosphere of the city and streets somehow has influenced the sound of the band?
There hasn't been a unified music movement here in Orange County for quite some time. Pete comes from Chicago and has extensive experience in the music scene from there and in Los Angeles. Rick and I have spent most of their time in O.C. and we all have seen the industry turn into a dog-eat-dog world. Our lives and personal experiences have really been the driving influence behind our music.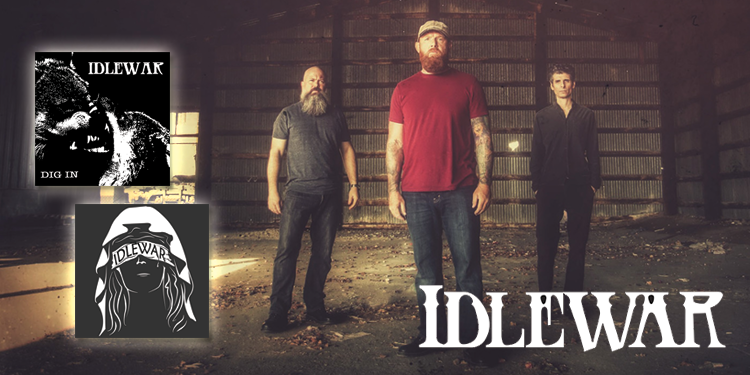 One of the things we like and we were surprised, it was that you produced the EP. It seems that you had a very clear idea of how you wanted to sound before enter the studio.
We had to work on finding the right studios in the area to capture what we were looking for. Each of us is particular in his own way but we each knew what we wanted to end up with. The music we produced had to kick you in the teeth, while you asked for more. So a raw, heavy, and gritty production is what we aimed for without the over-compressed "wall of sound" vibe that a lot of rock records end up with. We wanted to sound like a huge three-piece without losing the individual character of each part.
The Ep sounds incredible, congratulations! ¿what was the most challenging part of the recording process, and what do you enjoy the most?
Wow! Thank you! We worked really hard to make everything sound just right. If any one of us was unsatisfied with an aspect of what we produced, we went in to remix till we got what we wanted. This can be dangerous if you start overworking a track. You begin to lose vision and some of the raw aspects of the performance. We managed to balance asserting our own preferences while maintaining a unified vision. Pete should get tons of credit for keeping us on track with regard to getting the production where we wanted it. Seeing that vision realized has been the most enjoyable part.
Of what we hear in the Ep, it remind us to The Jimi Hendrix Experience, Grand Funk and Rush, just jamming and having a good time, an enormous sound and a lot of energy of the three together in the room ¿It was like this? Sounds very natural, live and raw, just like rock n roll must sound.
That's exactly how we started this thing and how we work out our material. We make sure we feel right about the material that gets brought to the table and then play our hearts out! If the music isn't getting us off, then how can we expect it to do that for fans of rock music?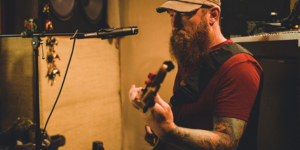 ¿For the writing and composing process, how Idlewar works? ¿what inspired writing the lyrics?
Any ideas for a song are brought to rehearsal and jammed out. That's where we make sure we're having a good time with it. There could be a riff that Rick has been working on or even a whole song that Pete put together. Once it's in the room and we're feeling it, we all make it our own and give it life. Pete and I will take the instrumental recordings and demo vocal ideas. Much of the lyrical inspiration comes from life experiences that are distilled down into simple relatable phrases. I tend to write with allegories and ambiguous prose while Pete gravitates toward the direct lyrics with an emphasis on phonetics. Between the two styles emerges a deep and direct set of lyrics. Then we get down to business. Higher quality demo recordings are made so we can live with the particulars and make changes as needed. At this point the songs go through the live sound test before we do a final recording.
¡About your gear? ¿What kind of drums/ guitar/bass do you like to use and what special sound brings to the band?
Pete has used both and 1969 Ludwig Standard Kit that you see part of in the video, as well as a 1970's Vibes fiberglass kit and a mix of old and new Zildjian cymbals. Rick uses Gibson Les Paul's and other guitars of his own making. Rick's amp rig is a combination of Marshall JCM 800 and a custom amp (built by yours truly!). He also uses a few pedals that involve some modulation and octave effects to get tons of cool texture with a HUGE sound! I use a Schecter bass with EMG pickups. Everything runs through a David Eden bass head with some crazy secret stuff to get that grinding top end with a big bottom bass tone. My rack and effects are made up of a BBE crossover MXR eq's and effects with a Menatone "King of the Britains" distortion.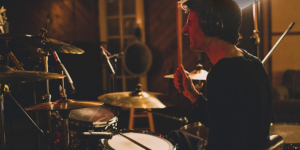 The cover of the Ep is kick ass, ¿who have the idea of the wolfs?
That was all Pete! He first had the phrase "Dig In" on his mind as a theme for the EP. Then he came up with an idea to use the wolves biting. With a bit of manipulation he got a gritty image that looks visceral without being gross…the wolves in the picture are actually playing with each other! The red on the EP just stood out in a good way, especially in the rock world dominated by black!
¿When you are on the road which are your favorite albums to listen to or when you are stuck in traffic which one makes you not go crazy while waiting?
Man, I don't think it's possible to keep from going crazy in Southern California traffic! I ride a motorcycle everywhere. Rick and Pete just want to get from point A to point B…Catch us on tour and we'll tell you about the road tunes we put on!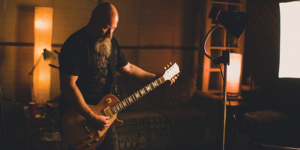 The Ep is having great reception, definitely the best we heard this year ¿What's coming next? ¿ Any tour or ideas for new songs or an album?
We are very proud of how well "Dig In" has been received! Our plan now is to transfer that energy into some festival dates and/or a summer tour. Finances are the real limitation for an independent band like us. If we can find the right support, then we're up for touring the world! We already have new material that we are playing live and we are working on a second video to support the EP.
Thanks so much for the interview, keep rockin'. Hope to see you playing in México someday.
Thank you for all the work you're doing to keep Rock music alive and spread the work about independent bands like IDLEWAR…we'd love to come melt faces and rock out in México!
We thank Pete Pagonis, James Blake and Rick Graham for the interview.
Here you can follow, buy and listen to Idlewar
https://www.facebook.com/idlewartheband
Comments
comments